Photo Gallery
98/11/30-12/01 Came back from the deep bush.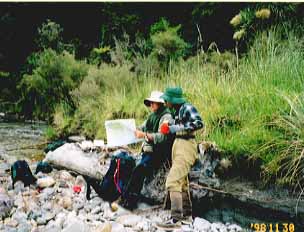 We have been looking for a trout for a day, though We have not seen any trout yet. We wonder about the reason that why there are only a few trout near here. Brent said, it was no rains for a couple of weeks, then trout had moved toward the upper reach of the river.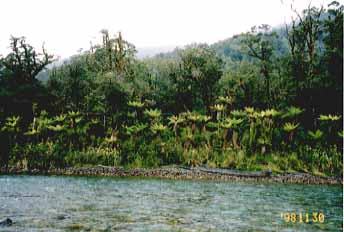 Five hours of casting and walking wore me out. I casually looked around and noticed that we were surrounded by deep primeval forest.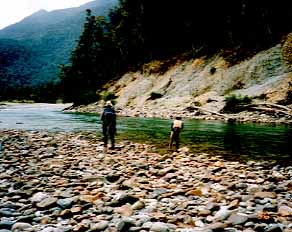 Our hopes, we can catch huge trout instantly, had disappeared after the first day. We have made some good casts to the trout, but they didn't make a good result.
On the second day, the weather has got worse. So we have stopped fishing and called the helicopter. We had to wait for 4 hours until helicopter will come. In the terrible rain, Brent suddenly asked me.
"GO, what is fishing to you?"
"Well, um..., probably it is pure joy to me."
I answered. Then Brent pointed the hard rain falling outside of our tent with a grin, and said.
"Pure joy."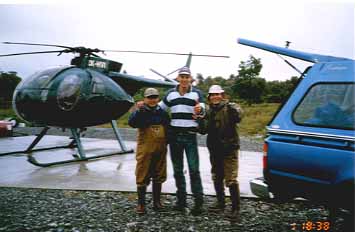 We took off the campsite in the middle of the storm. I was really worried about the strike of thunder when we got on the helicopter. The feeling of the firm ground of the heliport exactly made us happy.